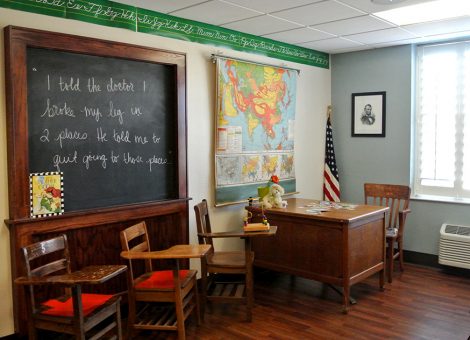 Perry Lutheran Homes received the Best Innovation in Aging Services and Housing Award for St. John's Memory Care Community focusing on a Sensory-Connected Environment.
When planning the redesign of the advanced stage memory care community, St. John's, the team at Perry Lutheran Homes focused on how a lack of simulation and engagement for residents drives depression, boredom, and increased behaviors. The sensory connected environment makes this redesign unique with the goal to tap into the resident's meaningful memories and create an individualized homelike, peaceful environment. The strongest early memories are church, school, and home so the Perry Lutheran Homes team set out to recreate an environment to tap into the hippocampus, a portion of the brain that stores one's fondest memories.
St. John's features a church, an old general store, a one-room country school, a parlor, authentic dining room and kitchen, and several screens that can be programmed with various outdoor or engagement scenes. There is an outside deck containing a sensory garden. Another unique feature is the snoezelen area where special lights, materials, and aromatherapy help to reduce anxiety.
Behaviors, falls, and the use of psychotropics have decreased immensely since the redesign of St. John's. The details make it more like home, and staff love to see relief and joy on family member's faces when they see their loved ones content, happy, and responding to them.
Come for a tour of our one-of-a-kind memory care community today!
Learn about our memory care environments and approach to caring for those with Alzheimer's or other dementia.