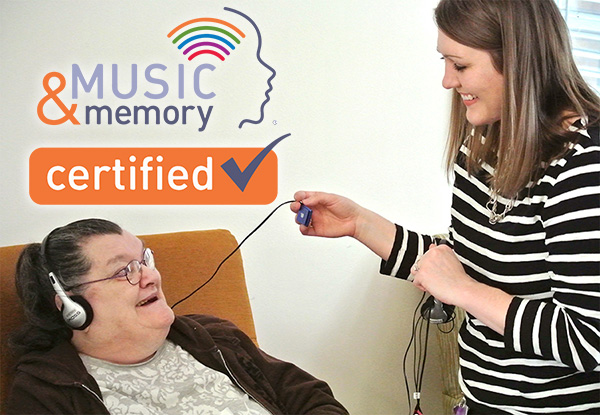 Perry Lutheran Homes (PLH) offers an innovative "Music & Memory" program which brings iPods filled with personalized music selections to tenants, residents, and those with Alzheimer's disease or dementia to enhance their memories and enrich their lives. Grounded in research about how brains respond to music, this program offers benefits from the therapeutic potential of music to tap into deep memories and reconnect with the world. Perry Lutheran Homes is one of only twenty "Music & Memory" certified providers in the entire state of Iowa.
"This program is not about listening to a favorite song. Personalized music can be life-changing for dementia and elderly residents. Extensive neuroscience research has proven music's powerful ability to support memory retrieval, reduce agitation and anxiety, and engage and enrich lives," states Music & Memory Program Director, Alyssa Poland.
The first Perry Lutheran Homes residents to participate in the program were dementia residents of St. James and St. John's award-winning memory care units. Staff members work with families to put together in-depth social histories detailing resident's past professions, activities, hobbies, childhood years, likes, dislikes, favorite songs, and preferred genres of music. Using all this information, a unique playlist is created and downloaded onto a personal iPod. Fine-tuning takes place to ensure and document positive response and desired therapeutic results. Music sessions are then arranged according to resident needs to decrease agitation and anxiety, and to elicit feelings of happiness and well-being.
"I think it's amazing. Whenever you see the residents listening to the music, you see them happy. They do remember those songs, and it does make them happy. When my dad listens to his music, I'm sure it makes him want to go dancing. He and my mom used to go dancing all of the time. Everybody would just sit and be amazed while watching those two dance," describes Larry Heimbaugh, son of a resident currently engaged in the "Music & Memory" program.
"We like to do things differently at Perry Lutheran Homes by providing the latest innovations to enhance and enrich the lives of our residents. The 'Music & Memory' program allows us to help each resident reach his or her highest level of self-identity and capability," said Rev. Max Phillips, Chief Executive Officer of Perry Lutheran Homes.
See how Marvin's quality of life is enhanced by Perry Lutheran Home together with "Music & Memory".