LONG-TERM SKILLED NURSING CARE
If you or your loved one need intermediate or long term skilled nursing care, our Christ-centered and compassionate care family will welcome you with open arms. Perry Lutheran Homes King's Gardens Campus and Eden Acres Campus offer personalized care activities, daily interaction with children, weekly bible study and worship, and compassionate staff all in Perry, Iowa.
Now Open - St. Luke's Private Suites!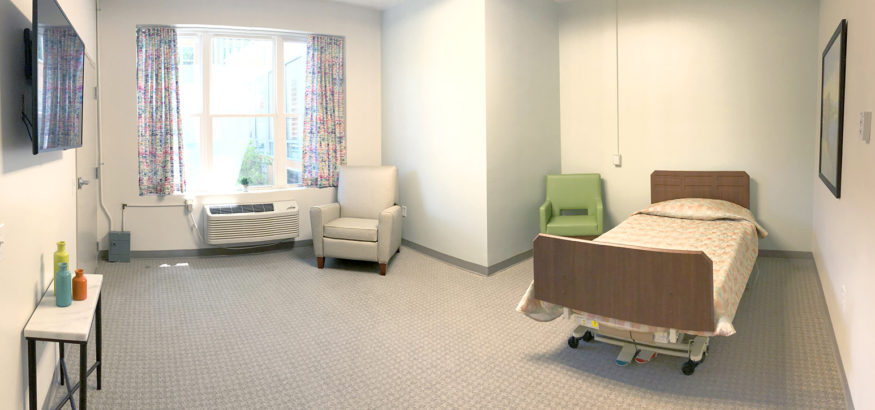 St. Luke's Private Suites are newly remodeled and accommodate those needing Intermediate or Long-Term Care, Skilled Nursing, and/or Rehabilitative Therapy.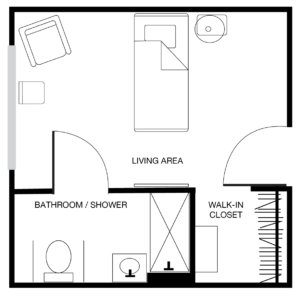 Features and Included Amenities
Spacious Studio Layout
Fully Furnished with Bed, Recliner, Side Chair, Dresser and Nightstand
En Suite Bathroom with Shower
Walk-In Closet
Large, Picture Window
Mounted, Flat-Screen TV with Cable
Beautiful Common Living Area
Complimentary Wi-Fi
Accessible Outdoor Spaces Include Courtyard and Side Patio
Secure Building Access
Emergency Call System
Housekeeping and Laundry Services
Also includes all the "Included Amenities" listed below
Click to View Studio Layout

Take a Virtual Tour!
Click on the photos below to see in larger view.
Long-Term Care at King's Gardens Campus and Eden Acres Campus
Personalized Long-Term Care Approach
Private & Semiprivate Rooms
Click to View Private and Semi-Private Room Layouts in St. Elizabeth's Neighborhood at King's Gardens Campus

Perry Lutheran Homes is able to accept the following sources of payment for Long-Term, Skilled Nursing, and Memory Care:
Private pay
Long-term care insurance
Veterans benefits
Medicare
Medicaid
Included Amenities
On-Site Therapy Services - Physical, Occupational, and Speech
Access to 24-7 Care Team
Weekly Bible Study and Worship Services
Pastoral Care and Chaplain Services
On-Site Beauty & Barber Shop
Outdoor Courtyard, Patio and Raised Garden Beds at King's Gardens Campus
Outdoor Patios, Walking Trails and Picnic Areas at Eden Acres Campus
Delicious & Nutritious Meal Options with Restaurant Style Menu Selection and Snacks on Request
Daily Interaction and Connection with Children (if desired) through on-site Acorns and Oaks Christian Daycare at King's Gardens Campus
Engaging Educational & Robust Variety of Social Activities
Meaningful Mission Projects - Cross Connect & Bandage Making for Global Health Ministries
On-Site Exercise & Wellness Activities
Housekeeping & Laundry Services
Pharmaceutical & Laboratory Services
Transportation and Wheelchair Accessible Van
On-Site Social Worker
Complimentary Wi-Fi
Pet-Friendly - visitors can bring pets with proof of vaccination
Community Cat and Bird Aviary On-Site at King's Gardens Campus
Podiatry, Optometry, and Dental Services Available